About Schmidt & Co Painting and Decorating
In 1984 Paul C. Schmidt, Sr. started Schmidt & Co. Painting And Decorating.
After spending years in the finance field as a director of acquisitions, financial analyst and, a CPA, Paul Sr., became discontented working in the corporate world and chose to return to his roots that had put him through college. Paul created Schmidt & Co. Painting and Decorating and the business flourished.
Paul C Schmidt, Jr. joined the USAR as Military Police directly after high school. Upon returning to Chicago in Jan 1985 after training, Paul attended Wright College for his Associates Degree in Law Enforcement. While studying at Wright, Paul, Jr. worked for his father at Schmidt & Co. Painting and Decorating.
Paul Jr. pursued his career with the CPD, and began the application process. He also married and had his first daughter.
Paul Sr. offered him a partnership in the Schmidt & Co. Painting And Decorating. Knowing it was a life changing decision Paul Jr. weighed the options with his family. Paul chose the partnership and hasn't looked back since.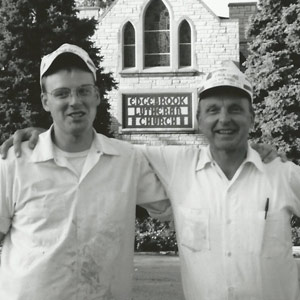 Jr. and Sr. were partners from 1990 through 2001 until Sr.'s retirement. The economic boom of the 90's was great for business and it was almost impossible to keep up with the demand. Both father and son ran a team of workers insuring that every customer got the personal attention which became their company trademark.
Schmidt & Co. has always been hands-on with our jobs, preferring the satisfaction of seeing their own work, and staying small was the way to do that.
2001-2004 brought changes for Paul Jr., both professionally and personally. Solo ownership of the business and remarriage. The great recession hit shortly thereafter forcing more adaptation to the economic reality of the time. Through it all the hands-on approach to trade and craft has kept customers loyal, allowing Schmidt & Co. to primarily have a referral-based business.
For Paul, Jr., it has always been about the satisfaction seeing his work of performing a job to the highest standards.